Interview with Wolfgang Ullrich
FRAMEWORK PROGRAM FOR BAMBI GOES ART
Thursday, January 10, 2019, 19 p.m.
Admission 7 euros, reduced 5 euros
Things that are reproduced a million times seem endlessly banal to us. When artists for their part recognize these things in their banality and increase and banalize them in their banality, suddenly all standards shift - the banal becomes an experience of the other. But how does something inconspicuous suddenly become banal and mostly immediately devalued as banal? Could one speak of a strategy of trivializing? And what are the consequences for art? Based on the current exhibition BAMBI GOES ART in hase29, the renowned cultural critic, art historian and media philosopher Prof. Dr. Wolfgang Ullrich, Leipzig, and the independent curator Dr. Michael Kröger, Osnabrück, an idea and practice of contemporary-exclusive art and (mass) culture that has received little attention so far.
In cooperation with the VHS Osnabrück and the Art and Museum and Art Association Osnabrück
Curator Michael Kröger has written a résumé of the conversation with Wolfgang Ullrich:
"Initially everything is banal that seems meaningless at first glance or vice versa ..."
The two looks of the banal. How the unnoticed expands our reception of art
Michael_Kroeger_Gespraech_with_Wolfgang_U
Adobe Acrobat document 111.4 KB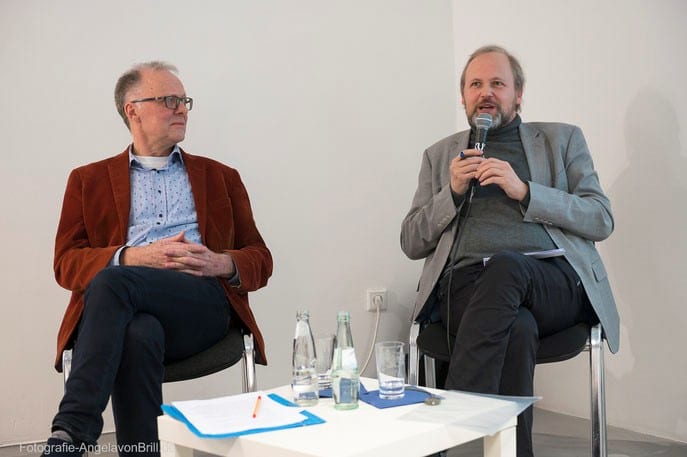 Wolfgang Ullrich (right) in conversation with Michael Kröger (left).