landscoping - true places never are
August 18 - September 29, 2017
Hans Lemmens Large and small format drawings of expressive-symbolic hybrid creatures in uniformly shaped agricultural landscapes meet the lyrical picture compositions Stan Klamersthat look like historical maps. The juxtaposition of two contemporary visual languages ​​creates a common discourse on myths and archetypes as well as on spaces and infinity.
Learn more
In a technologically oriented present, two artists question the always timeless relationship between man and nature in different ways. As different as the two artists proceed in their image research, their image inventions result in the same process of poetic transformation. Hans Lemmen (NL / B) explores the visionary in a dense and narrative manner. His drawings with enigmatic figures in a barren landscape create space for imagination. The mythical is combined with personal experiences. Hans Lemmens art ties in with inner and outer images.
Stan Klamer (NL), on the other hand, looks outwards. His watercolors and drawings depict long-term observations in the vastness of the landscape. Within clearly defined boundaries, the artist maps people and things that appear one after the other, thus allowing space and time to merge.
In cooperation with the VHS Osnabrück and the Museum and Art Association Osnabrück eV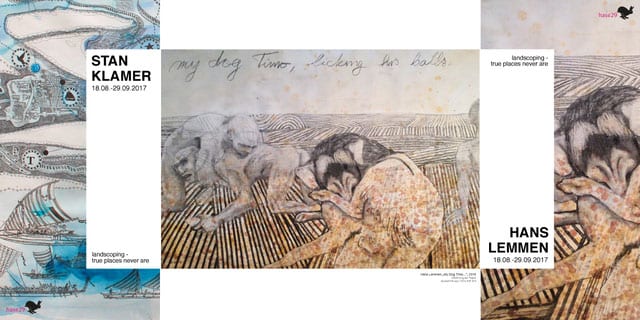 Participating artists
Hans Lemmen
Stan Klamer
Sponsors
City of Osnabrück | Landschaftsverband Osnabrück eV | Herrenteichslaischaft Osnabrück | FDES pack of shepherds | Felicitas and Werner Egerland Foundation