Grounded – Exploring an Artistic Material

Duration of the exhibition: 23.09. – 02.12.2023
Opening on Friday, 22.09.2023, 19 p.m.
curated by Friederike Fast, Jasmina Janoschka and Dr. Tim Pickartz
Artists: Ilana Halperin, Locuratolo, Maria Reneé Morales Garcia, David Moritz, Asad Raza, Adrien Tirtiaux
Earth isn't just a static entity – it's a dynamic material that's perpetually evolving. Beyond its role in food production and construction, earth cradles vast resources, and at the same time it serves as a repository for waste. Yet, symbolically, it resonates with a variety of interpretations – from representing home and fertility to encapsulating wastelands and life's fleeting nature.
In view of climate change, persistent drought in certain regions and the associated erosion processes that lead to the disappearance of entire landmasses, earth is increasingly becoming the focus of art. This group exhibition with international artists shows traditional and new, partly speculative ways of dealing with earth. As an artistic material made up of different components, it is used in different contexts – whether as an architectural material, a life-giving recipe or a symbolic representative of existence and the search for identity.
Furthermore, the exhibition endeavors to immerse visitors in multifaceted interactions with earth. It encourages individual and collective actions, invokes a range of sensory experiences, and fosters dialogue as well as reconnection with our shared world. Certain artworks also dynamically evolve, shaped by the involvement of visitors or selected groups during the exhibition.
EXHIBITION OPENING
"grounded" AND "ROOM FOR COOPERATION"
Friday, February 22.09.2023th, 19, XNUMX:XNUMX p.m.
Cordial invitation to the opening of the exhibitions "Earthed – Artistic Material Research" and "Space for collaborations – Frisqo"!
19.30 p.m.: Introduction by the curators Friederike Fast, Jasmina Janoschka and Dr. Tim Pickartz
20 p.m.: Live performance by Frisqo
20.30 p.m.: Live performance by Maria Renee Morales Garcia
Entry is free!
New Earth for Osnabrück –
Reading and discussion on the work of Asad Raza
Friday, February 27.10.2023th, 18, XNUMX:XNUMX p.m.
with Dr. Tim Pickartz (research assistant at the Chair of Art/Art History and Didactics at the University of Paderborn, art educator and curator)
The exhibition "Grounded – Artistic Material Research" features Asad Raza's walk-in installation "Neosoil (Osnabrück)", which combines aspects of community, storytelling and nature.
Based on his work "Absorption", various local materials and waste products such as hair, spent grain and waste paper are absorbed in order to cultivate a fertile soil. Tim Pickartz, who worked as a cultivator in "Absorption" and did the material research for the new work in Osnabrück, will present Asad Raza's works and, together with his students, read from his book "The Cultivators – Conversations about Asad Raza's Absorption", to illuminate aspects of land, society, giving and responsibility.
Entry is free!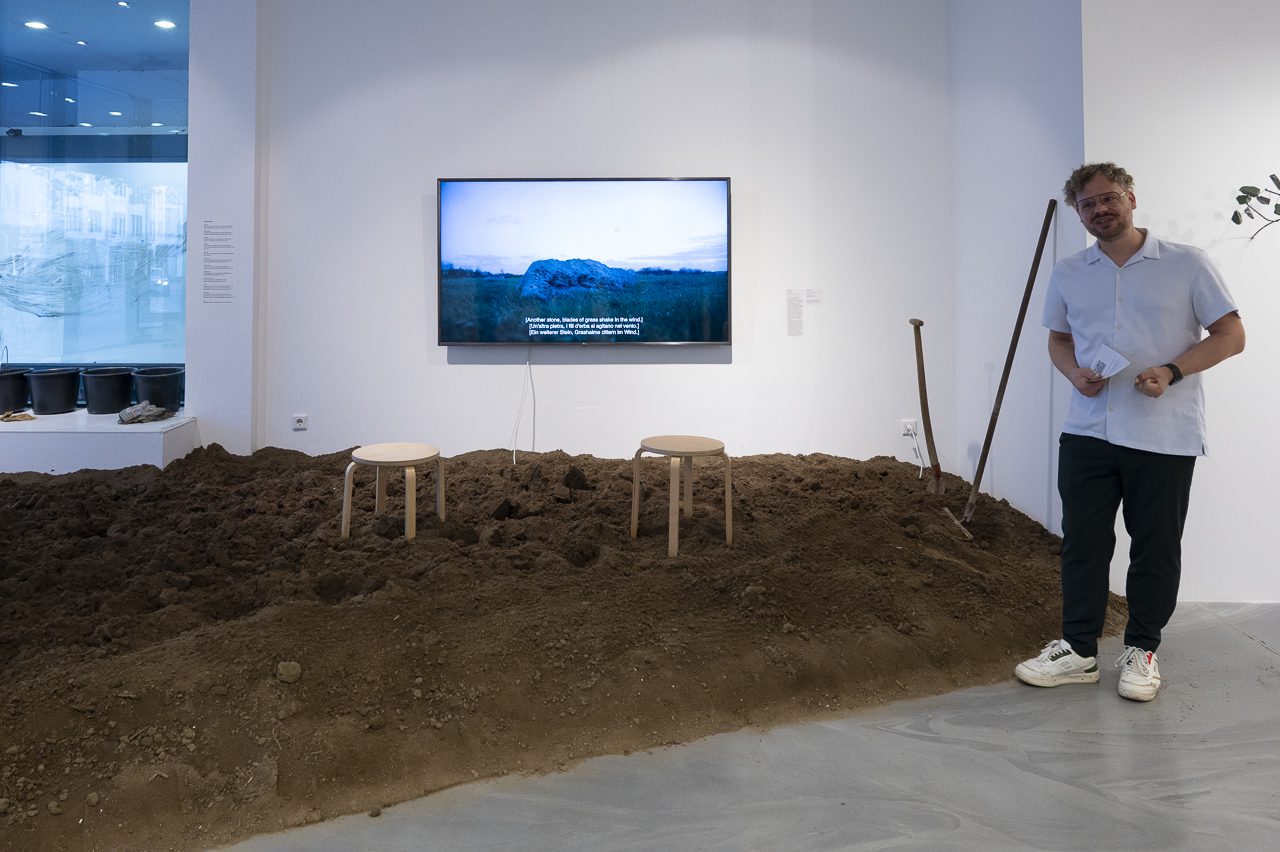 Exhibition view "Grounded – Artistic Material Research", Kunstraum hase29, 2023 / Asad Raza: Neosoil (Osnabrück), 2023, photo: Angela von Brill
The living death
Joseph Beuys meets Damien Hirst
Thursday, 9.11.23/19/XNUMX, XNUMX:XNUMX p.m.
with Dr. Michael Kröger, art historian, art educator and curator
Death is usually a (disturbing) phenomenon for people. Apart from the fear that death can trigger in us, it represents an aesthetic and social challenge in order to become clear in its existential meaning. Joseph Beuys and Damien Hirst - one in 1957, the other since 2007 - each dealt with the consequences of an experience of death. Beuys' corpse and Hirst's skull each speak of the liveliness of death in different ways.
Eintritt frei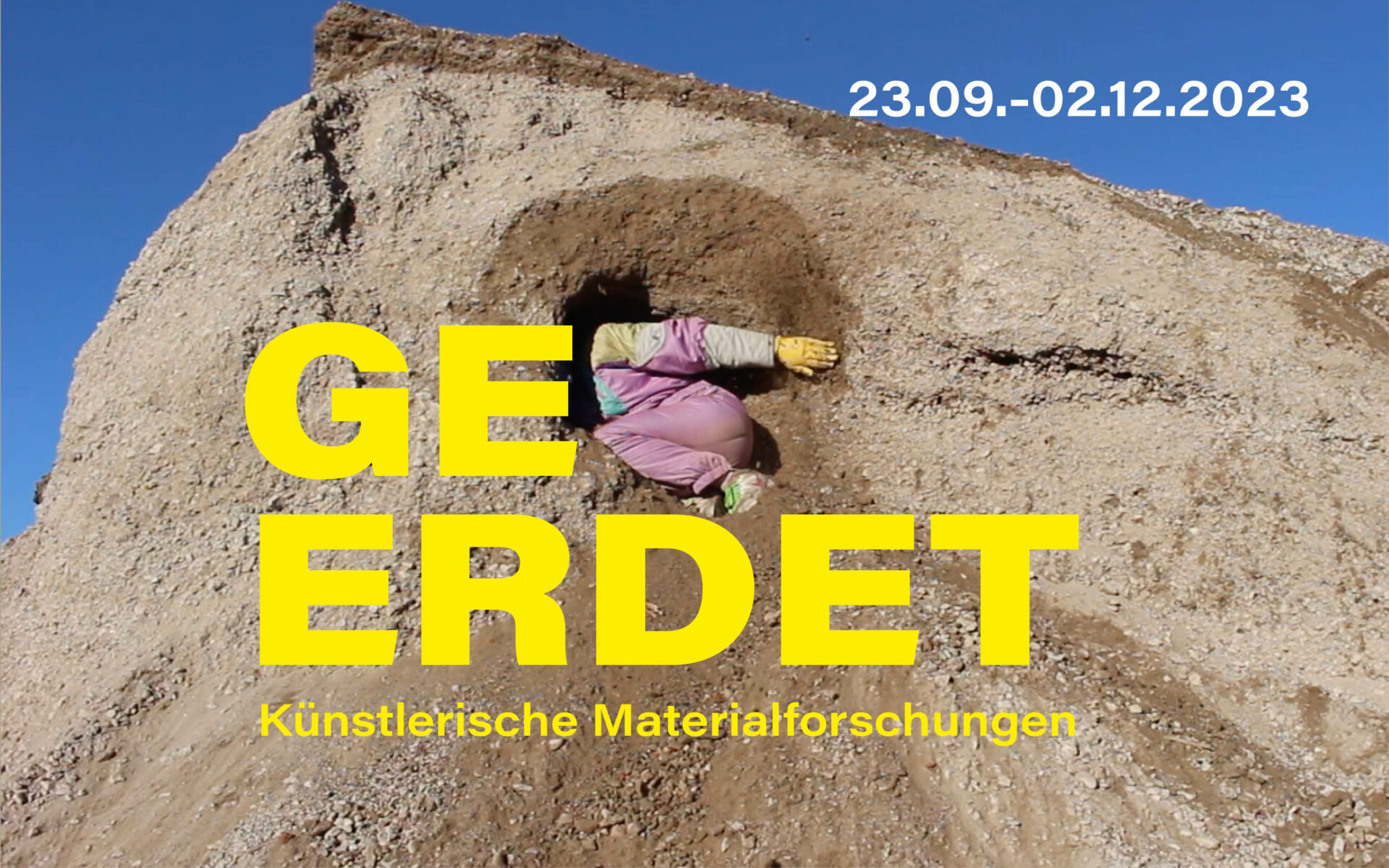 Locuratolo, In Search for Grounding – a Cave in a Pile, 2021, video 19:04 (silent)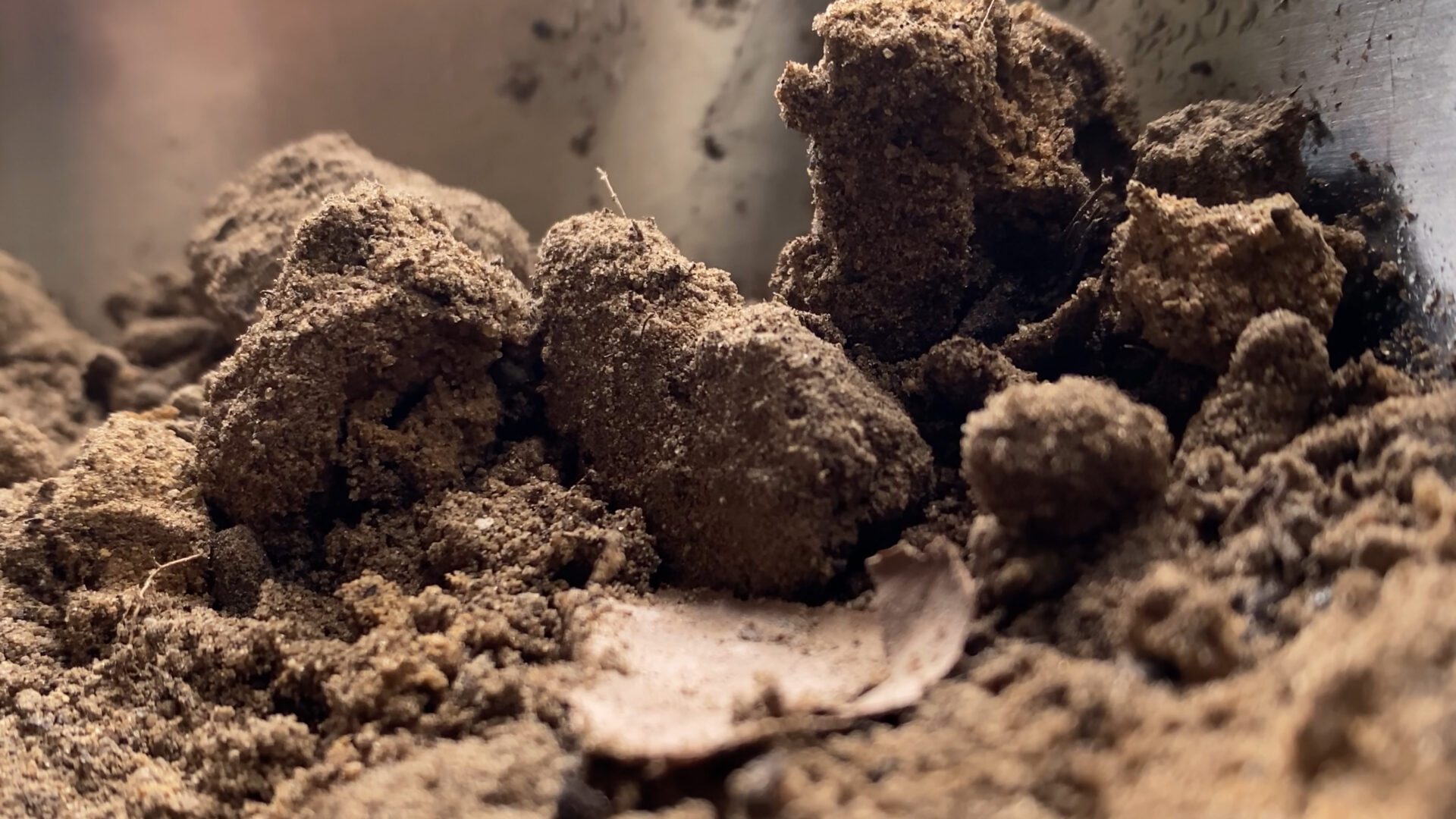 Asad Raza: Still from Ge (Recipe), Digital video, 2020
The exhibition "Grounded – Exploring an Artistic Material" is accompanied by a participatory sound installation by Frisqo in the Space for Collaborations ("Raum für Kooperationen").
Artist talk (online) with Ilana Halperin
as part of the SILO TALKS at the University of Paderborn
Tuesday, November 14.11.2023th, 18, XNUMX p.m
Ilana Halperin has been studying geological formations and the rich history of the earth since the 1990s. Her work takes her to various places around the world - from Icelandic volcanoes to stalactite caves in France or thermal springs in Japan. Like a field researcher, Halperin's work opens up a long-term perspective on the genesis of minerals, in which residues from all (!) living beings - in a living process of transformation, compaction and mineralization - first transform into soil and finally into various rock forms and layers .
The SILO CONVERSATIONS were launched in 2007 and offer a forum for artistic, art-scientific and art-pedagogical discussions on changing issues. With lectures, discussions and artist talks, the subject of art opens up to university discourse and an interested public. You can find further information about the SILO TALKS here.
The artist talk will take place online via Zoom. To participate please click here.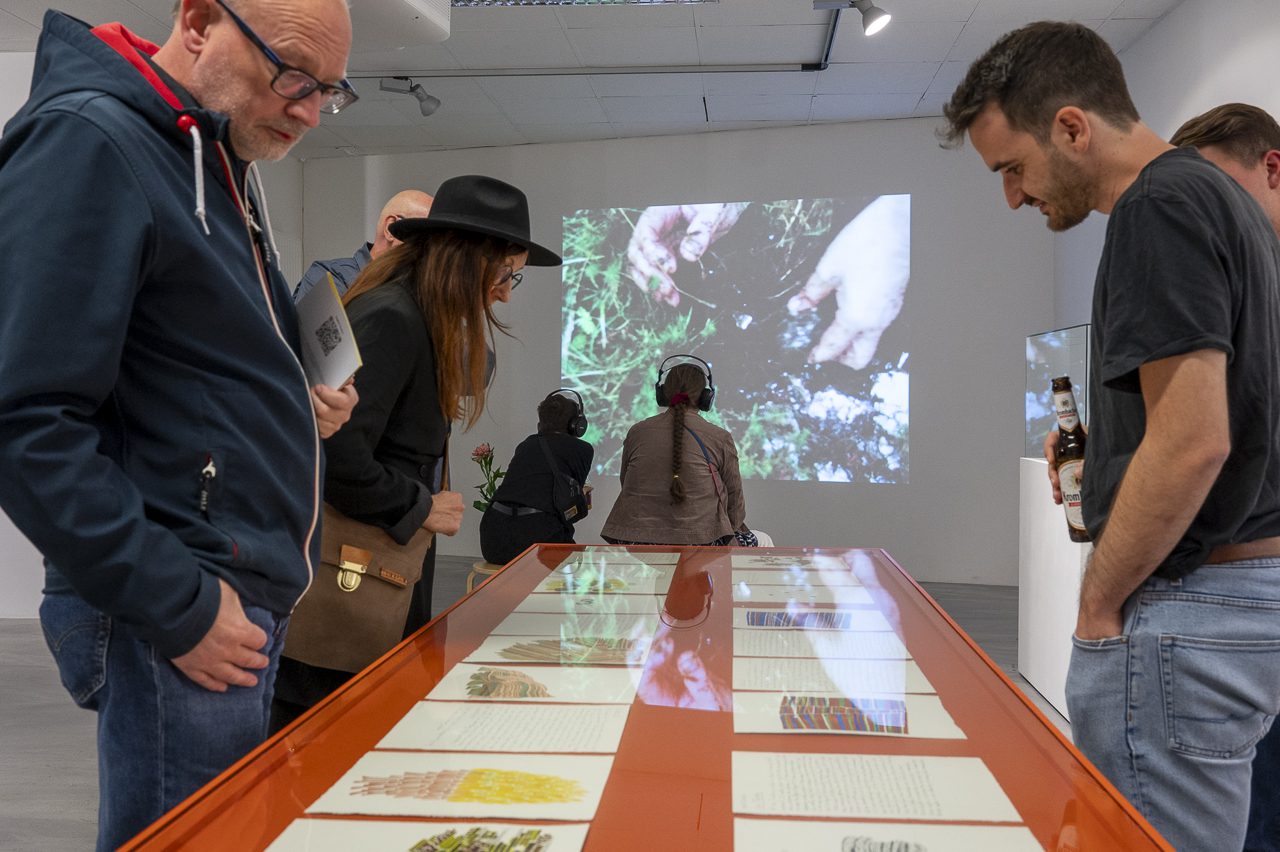 Exhibition view "Geerdet – Artistic Material Research", Kunstraum hase29, 2023 / with works by Ilana Halperin, photo: Angela von Brill
Panel discussion: Is the end of the classic single-family home?
Sustainable building with clay, wood and straw in Osnabrück
Thursday, 16.11.2023/18/XNUMX, XNUMX:XNUMX p.m.
in cooperation with the Association for Building Culture Osnabrück
with Sabine Djahanschah (DBU, moderation), Marco Lange (WIO – OsnabrückerWohnungsgesellschaft), Frank Haverkamp (Hasko Lehm) and Mike Voss (Raumwelt – Modular Timber Construction)
Analogous to the theme of the exhibition "Grounded – Artistic Material Research" (until December 02.12.2023nd, 29) in the art space haseXNUMX The discussion will cover the use of natural materials (clay, rammed earth, clay, wood, straw, etc.) in construction and architecture. In particular, the panel will take a closer look at construction practice and, above all, the urgent need for sustainable construction in Osnabrück. Specifically, options will be discussed to build a multi-storey model social housing building made of clay and/or wood on site.
Of course, the economical use of natural resources (soil, biomass, building land, etc.) will also be taken into account. One of the questions to be discussed will be whether the confrontation with the inevitable transformation of urban development and the conscious densification of the housing supply is not also an end would mean for the single-family home.
We look forward to a stimulating discussion – also with the audience!
Art space hase29 + Association for Building Culture Osnabrück
Free entry!