EMAF 2023: Festival Section Campus
Sorry, I have to leave

FESTIVAL April 19-23, 2023
Opening on April 19.04th at 19.30 p.m. in the Kunsthalle Osnabrück
from 21.30 p.m. in the hase29:
Live listening "Unruheleben / Unrest Life" with Johann Bärenklau and
Performance "Magical Octopus" with Ksenia Sova & Fyodor Stepanov
Sorry, I have to leave
The exhibition presents current work by students in the class Expanded Cinema / HGB Leipzig. Kinetic sculptures, video installations, photographs and (video) performances will be shown. The participating artists: inside the motto of this year's edition of the EMAF "Trembling Time" is not far off, because most of their works deal with the concept of time, but in broken forms. It is a time of unrest, when there is no sitting back. Something wears out, wobbles, transforms. History is constantly being rewritten, especially in times of war. When we react to the present, the first thing is to connect with it. However, this can be canceled at any time and must be rebuilt. These are moments of transition, of blackouts, a time of unrest and change of location. Sorry, I have to leave. But where? The works tell of nuclear waste in Taiwan, memorial sites in Hong Kong. Oily plastic forms move to the rhythm of share prices and directional beam towers send messages to the mountains.
Expanded Cinema / HGB Leipzig
Film has changed massively over the last few decades, towards data-driven production and new relationships with nature. Artistic training and research in the Expanded Cinema class (Leipzig University of Applied Sciences) focuses on the further development of contemporary moving images, innovative narratives and spatial installations. Students experiment with all kinds of formats, including photography, VR, sculpture, performance, and research-based practices. In a networked world that is increasingly connected by visual and auditory instruments, they critically examine the rapidly growing automation and interconnectedness of social environments and cognitive technologies at the intersections of media, public and virtual spaces. In filmmaking they both adhere to a critical documentary practice and use the possibilities of fiction and speculation.
The class was founded in 2013. It is currently led by Prof. Clemens von Wedemeyer and Mareike Bernien, PhD.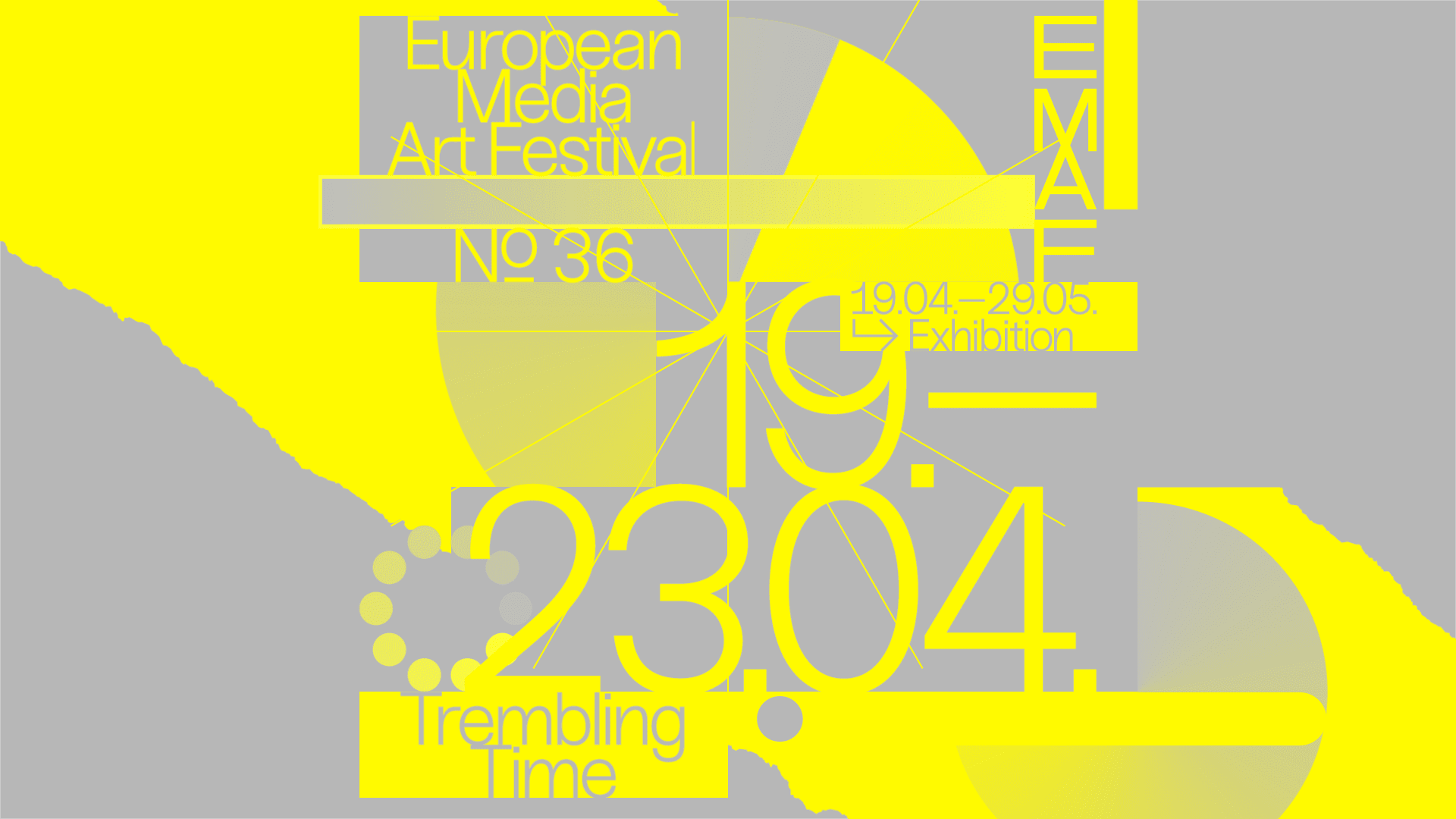 Veranstalter:
European Media Art Festival
Lohstrasse 45 A
D - 49074 Osnabrueck
Email: info@emaf.de
Telephone +49 (0) 541 – 21 65 8
EMAF campus
The EMAF Campus festival section offers classes and subject groups from European academies and universities a platform. The students present their work with exciting film programs and diverse exhibitions. The students' contributions can be discovered not only in the festival cinemas, but also at various locations in downtown Osnabrück.