An attempt to come to an agreement
August 1 - September 3, 2016
Henk Visch's class from the Art Academy Münster presents:
The title of the exhibition "An attempt to come to an agreement" indicates the many possibilities that precede the realization. Artistic processes as public action: Each work of art has its own temporal expansion, can be designed as permanent or fleeting, limited in time or "immortal". Whoever wants to escape the passive role of looking is invited to actively participate in art processes, actions and performances. Artistic works from the fields of painting, objects, photography, video, room installations and performance will be shown.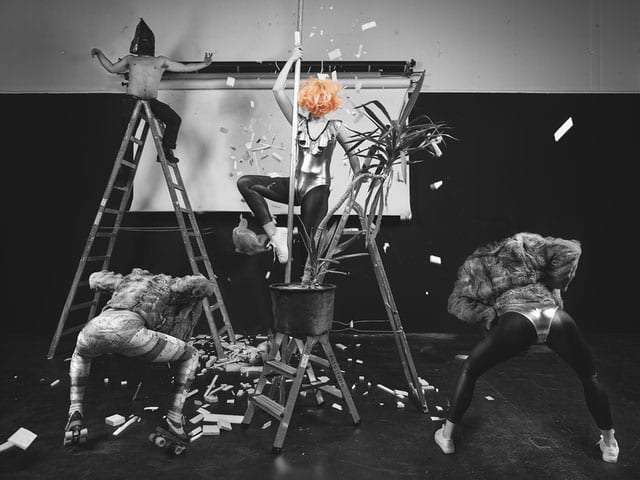 Participating artists
- Nomin Altankhuyag
- Anna-Katharina Bissantz
- Ewa Budny
- Lena Dues
- Fabiana Dombrowski
- Francisco Javier Buendia
- Frederike Brenseler
- Henrik Straßmann
- Hubertus W. Huvermann
- Julia Hielscher
- Laura Mareen Lagemann
- Lena Homann
- Sarah Jupe
- Lisa Kiss
- Michelle Hennig
- Eu Sun Ko
- Philipp Reuver
- Pia Voss
- Simone Thünemann
- Tineke Kaiser
- Alexander Wierer
- Miriam Voss
Sponsors
City of Osnabrück | Sparkasse Osnabrück Foundation - Herrenteichslaischaft | Landschaftsverband Osnabrücker Land eV | Lower Saxony Ministry for Science and Culture | Art Academy Münster
Sponsors
Sievert Foundation for Science and Culture
Duties of the foundation are the promotion of research and teaching, education, art and culture as well as international understanding. The foundation realizes its projects in particular in connection with the University of Osnabrück and the University of Osnabrück. Artistic and cultural events are primarily supported in the Osnabrück region and should have an international connection.