A teahouse for Osnabrück - Studio Quack

Duration of the exhibition: 13.05. – 05.08.2023
Opening on Friday, 12.05.2023, 19 p.m.
curated by Jasmina Janoschka in collaboration with Friederike Fast and Wiebke Hahn

Studio Quack works at the intersection of art, design and architecture. Inspired by the theme of the year "Togetherness - The Dream of a New Community" With the exhibition project "A Teahouse for Osnabrück" they create a lively place for community gatherings and intercultural exchange.
The focus is on the ceremonial act of drinking tea, which has been the focus of social gatherings around the world for centuries. Equipped with tables and seating, the "Teehouse for Osnabrück" invites you to chat over a freshly brewed cup of tea. In addition to the social aspect of drinking tea, visitors to the exhibition can discover the production of tea themselves - from cultivation to drying to the process of preparation.
The tea house in the art space hase29 is deliberately not based on a specific tea culture, but instead offers space for different people and traditions to meet. With the help of videos and illustrative instructions, visitors are given an insight into various tea rituals and are also invited to add their own recipes. This openness is also reflected in the cubic wooden architecture specially developed for the art space.
In addition, the project will be expanded from the exhibition space into the public space. On guided tours through the city, herbs and plants are collected that can be used to make tea. In addition, the entrance area of ​​the art space itself becomes a tea herb garden, creating a new, green place to stay in the middle of the old town.
Based on an idea that came about in cooperation with Anke Leitzgen and Karl Michael Drohsel.
exhibition opening
"A tea house for Osnabrück" and "Space for cooperation"
Friday, February 12.05.2023th, 19, XNUMX:XNUMX p.m.
Cordial invitation to the opening of the exhibitions "A Teahouse for Osnabrück – Studio Quack" and "Space for collaborations - with Nike Finger-Hamborg" with a short introduction, drinks and music!
in the presence of the artists
Program
19.30 p.m. – Welcome by the board + short introduction by the curators Jasmina Janoschka and Wiebke Hahn
20 p.m. – Drinks and music from DAR:WIN (Dark Garage, Bielefeld)
Entry is free!
Picture lecture on tea culture in Japan + Matcha tasting
with Markus Hastenpflug (Keiko Teehaus, Diepholz)
Thursday, June 06.07th, 19 p.m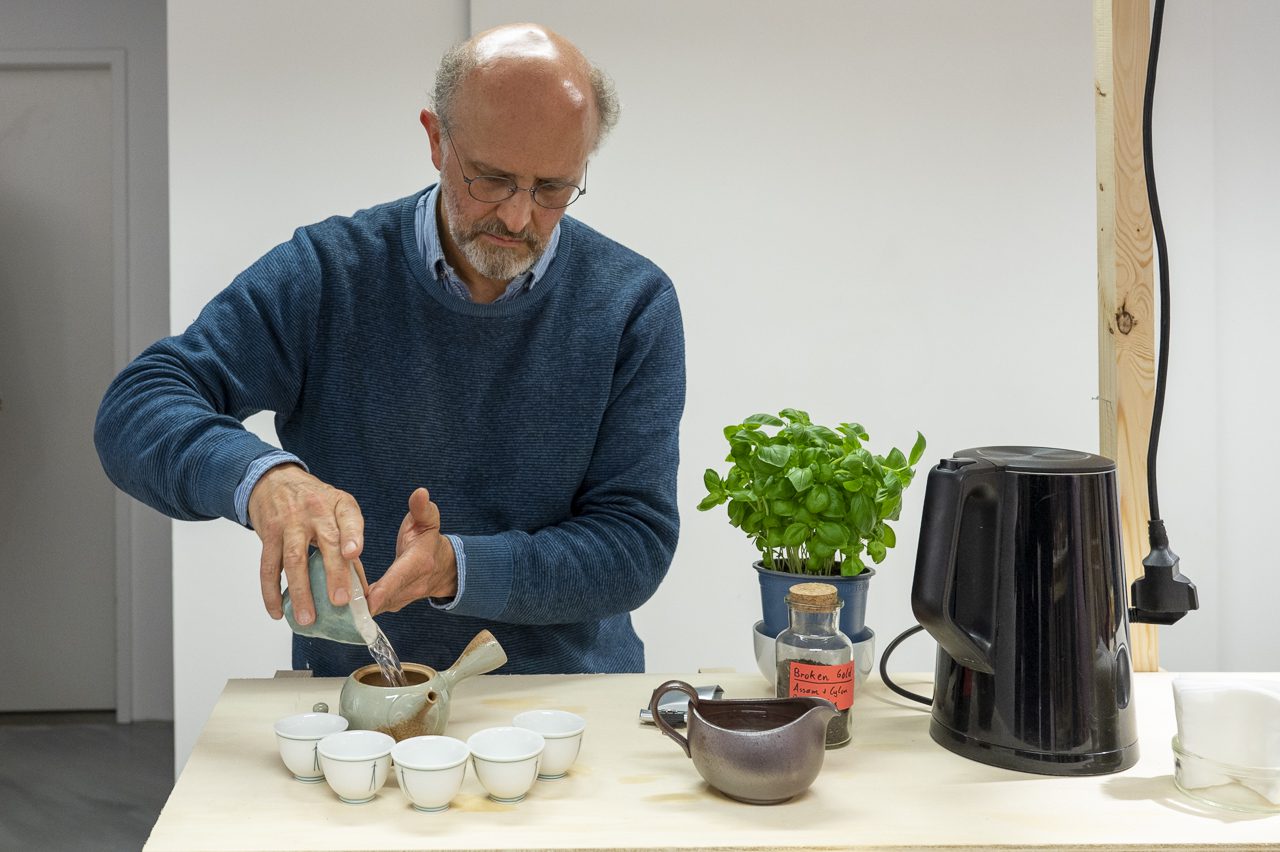 After a slide show with a short introduction to the tea gardens of Japan, the history of organic tea cultivation, the various types of (Matcha) tea and how they are made, the tea expert Markus Hastenpflug (Keiko Teehaus, Diepholz) offers a Matcha tasting – with a special focus on the "Shinsha" (new tea), which is particularly celebrated as the first harvest of the year in Japan.
Admission is free / donations to support the work of the association are very welcome!
Karl Michael Drohsel as a guest in Osnabrück

As an urbanosophist, artist, food designer and tradologist, Karl Michael Drohsel has gained a wide range of experience with neighborhood participation formats and activation projects, such as those he currently offers in Vienna, Berlin or the Stuttgart region. To do this, he works closely with local food rescuers, school or university projects and of course the local communities.
Wednesday, July 19.07, 15 p.m
City walk: "The city is our garden and we are its amazed children"
During a walk through Osnabrück, the participants can discover regional plants with the urbanosophist/artist/food designer/trödologist Karl Michael Drohsel and explore the story(s) that plants and soils can tell together.
Wednesday, July 19.07, 19 p.m
Lecture: "COMMUNI*TEA - From a residence society to a resilient community"
The urbanosophist/artist/food designer/trödologist Karl Michael Drohsel reports on the "COMMUNI*TEA" project in the Sandleitenhof municipal building in Vienna, in which the focus is on social exchange with locally produced tea, in food laboratories and in joint cooking and food-sharing projects. The MA-TEE-OTTI from Vienna will be offered for the lecture and subsequent discussions.
Thursday, July 20.07, 14 p.m. (approx. 1 hour)
"Building without building materials - The imaginary tea house":
A dream trip to a very personal tea house with tea tasting / please wear comfortable clothing.
Admission is free / donations to support the work of the association are very welcome!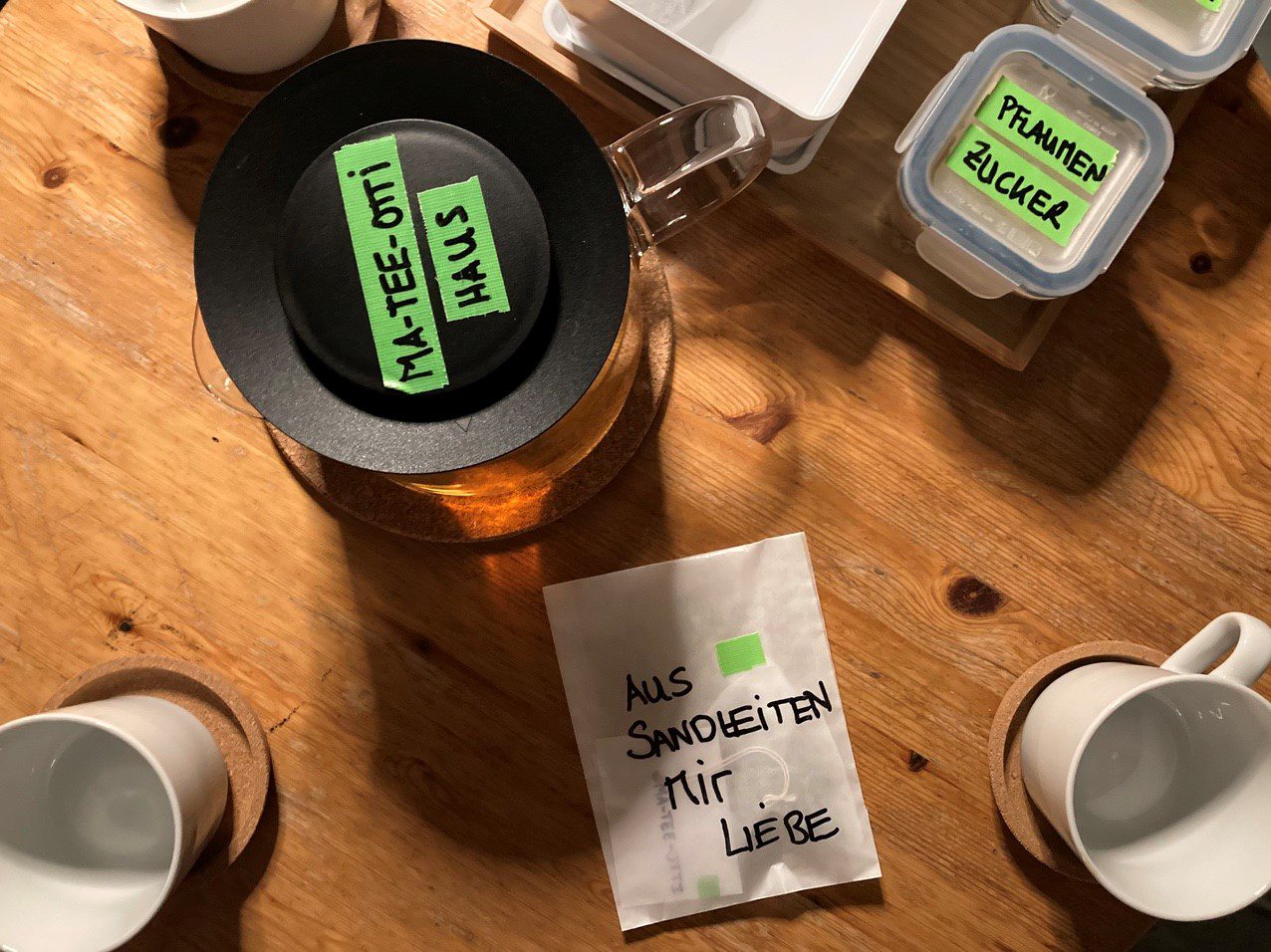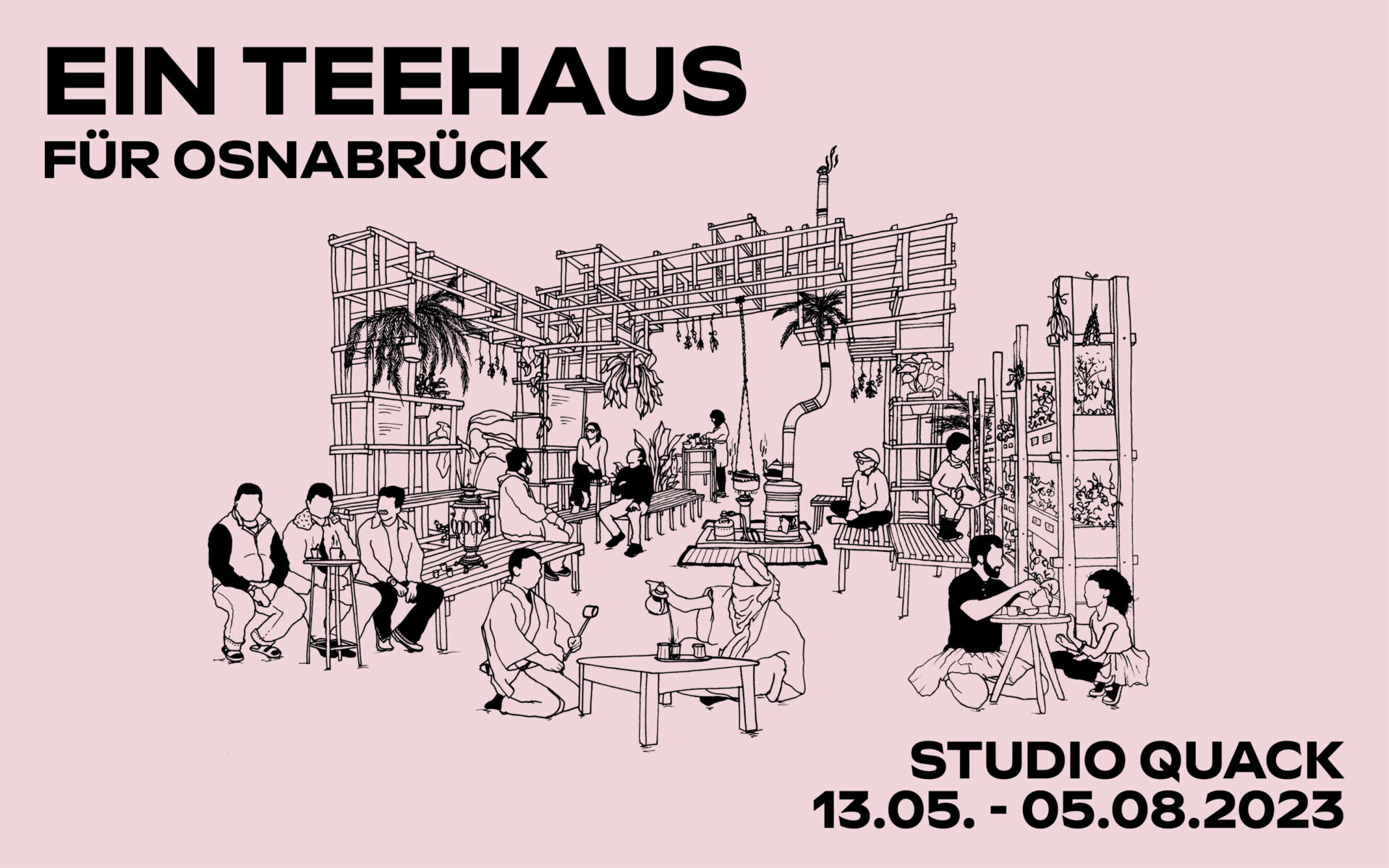 Studio Quack
Studio Quack (Jan-Philipp Neuer, Thomas Quack and Pauli Muszi) from Cologne rely on an interdisciplinary and collaborative way of working that combines art, architecture and design. Together with various partners, they realize temporary installations and interventions indoors and outdoors. In doing so, they react explicitly to the spatial and social structure of the respective location. Topics such as sustainability and the respectful use of traditional cultural techniques are just as important to them as collective experience.
How does Osnabrück drink its tea? – Tea ceremonies in the art space hase29
As part of the current exhibition "A Teahouse for Osnabrück - Studio Quack" we at Kunstraum hase29 regularly organize tea ceremonies with various guests who bring their own tea recipes and rituals with them.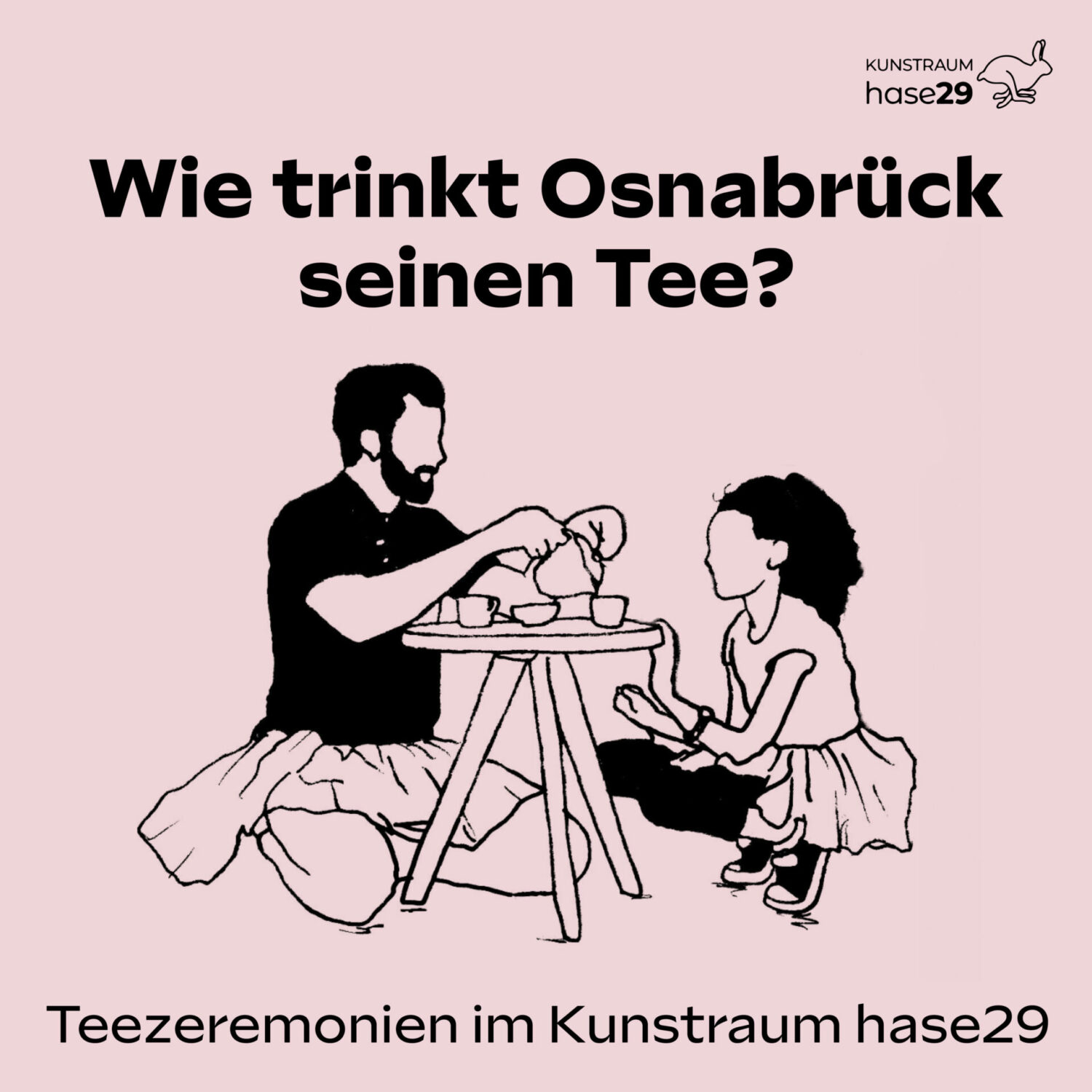 Wednesday, May 17.05, 19 p.m
Tea ceremony with herbal expert Irmgard Rösner
Irmgard Rösner is a herbal expert and is very familiar with nature's valuable health treasures. She takes guests on an imaginary herbal excursion with refreshing apple tea and soothing nettle tea.
Thursday, June 08.06th, 19 p.m
Japanese tea ceremony with Karl-Heinz foot (Aikido Osnabrück)
Wednesday, May 21.06, 19 p.m
Kenyan tea ceremony with Helen Wambui Nintemann
Helen Wambui Nintemann is committed to the African community in Osnabrück and promotes German-Kenyan understanding - in the "Teehaus für Osnabrück" with a Kenyan tea ceremony.
Free entry!