BOT_LAB - hase29 studio on the move
artistic botanical research camp at the Nackte Mühle learning site in Osnabrück
Observation of nature and artistic experimentation meet in the "creative research camp".
Artists introduce children, young people and adults to different design techniques, from drawing and painting, digital painting on the mobile phone or I-Pad, plastic design and performance art. From the classic composition to the free, experimental use of colors, shapes and natural materials, everything can be tried out.
The nature on site offers a lot of material for artistic design - be it the "view into the distance" in the form of landscape drawings or the "view of detail" when we put found objects from nature on paper with a pencil.
The hase29 artistic-botanical research camp invites you to engage with nature and experiment in nature. We work outside, we find our source material and process it on site. In this "school of seeing", the focus is on discovering, observing, researching and experimenting.
Information: mail@hase29.de
The offers are free of charge.
Funded by the

Target groups
The course offers are aimed at learning and leisure groups as well as school classes. All courses are suitable for beginners with no prior knowledge. Individual offers for day workshops can be booked in combination.
Booking of courses: Telephone 0541/580 51 396
By email: mediation@hase29.de
Painting with natural pigments
Make colors yourself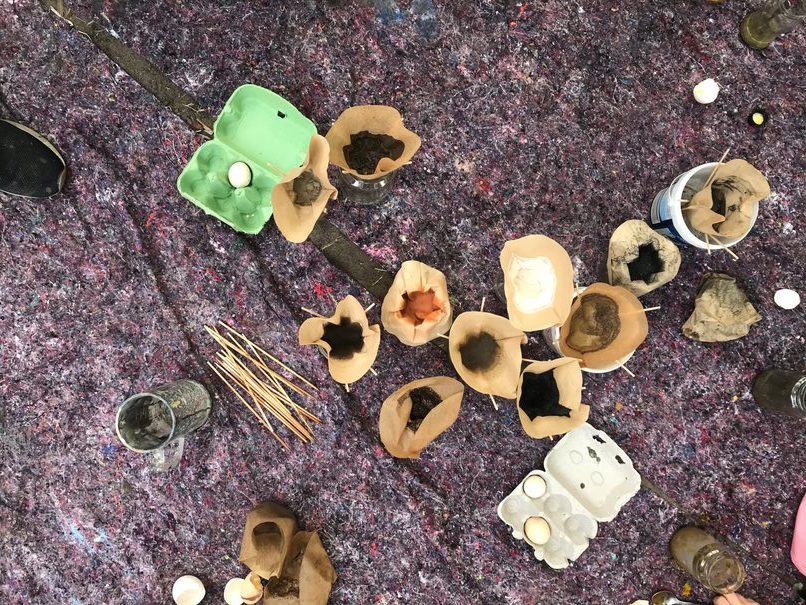 Painting like in the Stone Age with the artist Jakob Schöning
Course content
Making colors yourself is also possible without artificial and harmful substances! Together with the children in this workshop we want to use what the natural environment of the naked mill offers us. To do this, we will first collect natural materials in a three-day workshop, which we will then dry, crush and filter so that we can finally use them for painting. The workshop offers an insight into the natural production of paint, which is probably unknown to many, while painting with natural pigments has a history that goes back thousands of years: from stone age painting through antiquity to the present day.
schedule
This special form of color production requires a time sequence of approx. 2 days. These materials will then be used to work together on one (or more) paintings in order to be on the trail of primeval artists.
Schedule example: After the group has got to know each other, we walk together across the Nackte Mühle grounds to collect materials that are then turned into color. Soils of different colors play an important role, as do charcoal from the fireplace, etc.
This is followed by a short theoretical excursion into the realm of colors and pigments. (We may start with material that I have already dried so as not to have a time gap and process this into paint using natural binding agents, which we test the following day.) The third day should be devoted exclusively to painting. After looking at various examples from the past, it is open whether we start a joint project or whether each person does a single painting. Perhaps there is a suitable place on the site where we can immortalize ourselves.
Schedule on site:
Time on site:
Workshop 1 (July 20-22.07): Tuesday - Thursday 10 am - 13 O'clock / 9 hours plus 3 hours preparation time
Workshop 2 (July 27-29.07): Tuesday - Thursday 10th -13 O'clock / 9 hours plus 3 hours preparation time All consumables and tools are provided.
Instruction of the workshops: Jakob Schöning
Telephone inquiries about all courses:
Nina Lükena 0176 10330947
or via email
Art in the goat shed

A climbing frame for four-legged friends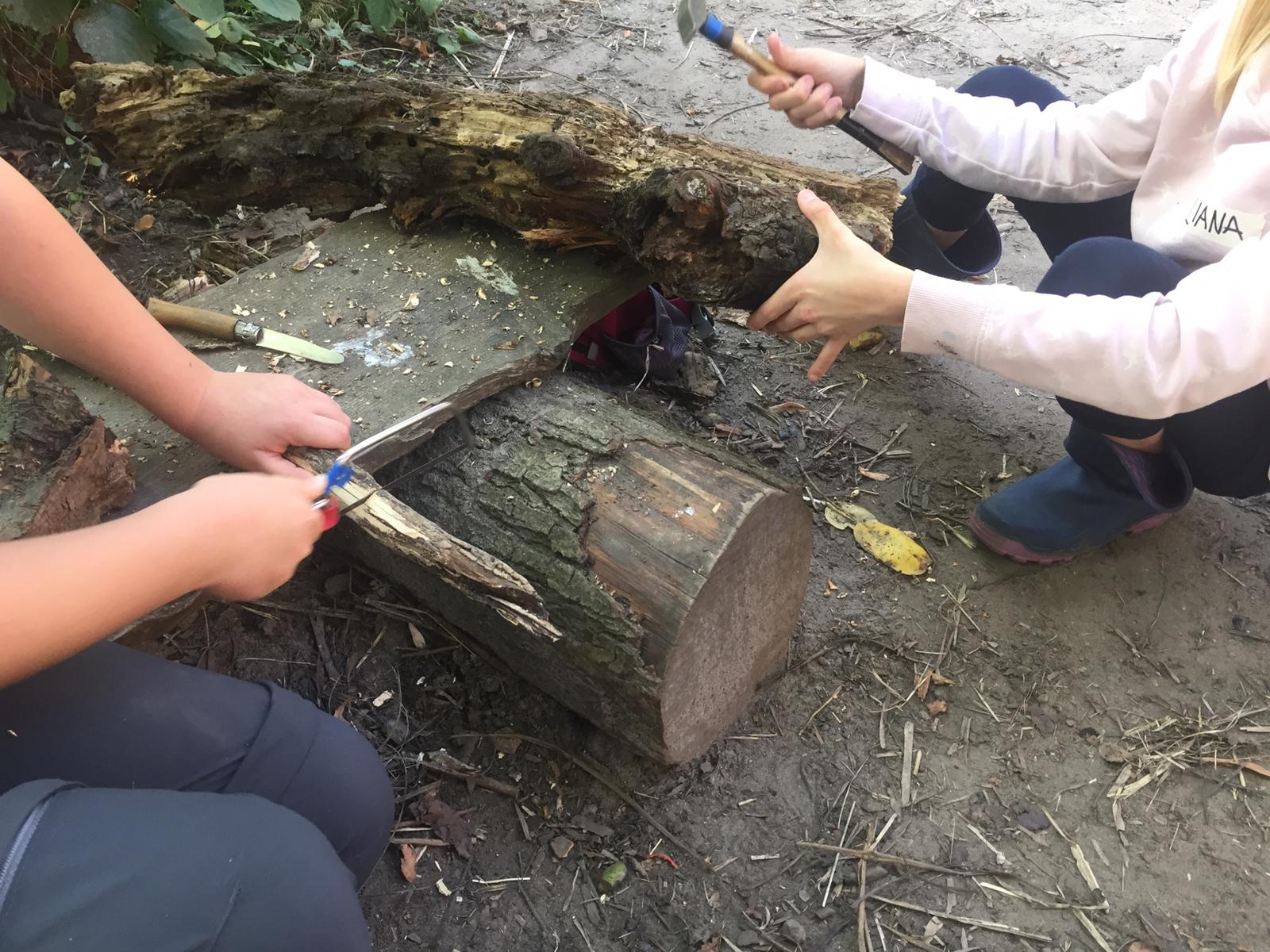 Building with saw, hammer and nail, painting and designing with color and material with the artist Susanne Heitmann
The workshop offers children the opportunity to build and design creatively with natural materials outside in nature. The area of ​​the Nackte Mühle in Haste with its forest, garden and animals opens up a wealth of opportunities to involve children in a creative process. There they can spread out, explore and observe.
First we dedicate ourselves to the animals in the meadow, especially the goats, for which we would like to create a climbing frame from the stock of materials. Using saws, hammers and nails, the children first build a basic framework. In a further step, the framework is beautifully designed and imaginatively painted.
Fences are also built and imaginatively designed. The children design individual fence heads with beings, faces or figures. These are painted and wrapped with wire in a fence post tape. This serves to separate the grazing ground.
The children can thus connect with the design of the site, they do their work for the animal world and enjoy the use of the animals.
On-site schedule:
6 dates: 6.9. / 13.9. / 20.9. / 27.9. / 4.10. / 11.10.
Time on site: Every Monday from 14 pm to 17.00 pm 18 hours plus 3 hours preparation time. Consumables are on site. Workshop leader: Susanne Heitmann
Fire and clay

Clay fire on an open fire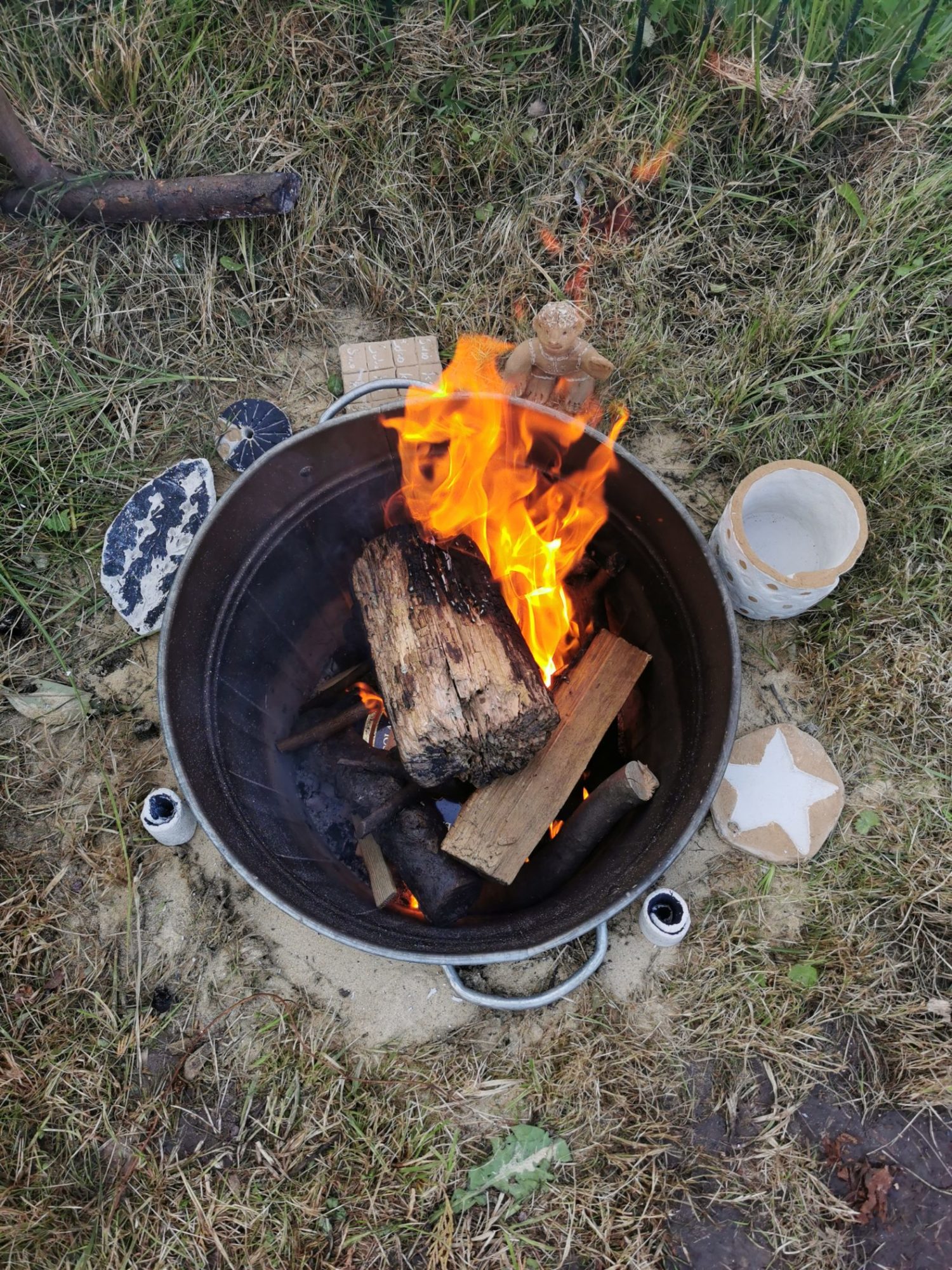 With artist Nina Lükenga
Course content
The workshop offers the children the opportunity to shape small objects out of clay (pearls, amulets, small figures ...) outside in nature, to decorate them with the help of found natural materials and to design them with engobe (liquid colored clay).
After the small workpieces have dried, they are placed in perforated tin cans on a bed of sand, wood chips, straw or leaves. The workpieces in the tin cans are then turned into finished ceramics in a specially built tower fire. After the fire has cooled down, the workpieces can be removed from the tin cans and cleaned. Finally, these special pieces are stretched onto colored leather straps or natural raffia and become the unmistakable "wish man" or "magic amulet" and are a reminder of this special experience in everyday life.
schedule
This special form of clay design requires a time frame of one week and is therefore particularly suitable for the holiday camps.
Schedule example: The workpieces are shaped on Monday morning and then have to dry for about two days. During this time, the children can collect and stack the firewood and prepare the tin cans for the fire. On Thursday the fire is lit in the morning and has to be kept running for about three hours until noon. The fire then slowly cools down so that on Friday morning the cans can be removed from the cooled fire and opened. Then the finished ceramics are taken out, carefully cleaned and put on ribbons. The children can then take their finished pieces home with them on Friday afternoon.
On-site schedule:
- 29.10, Mon. - Fri. 10 a.m. - 13 p.m. / 15 hours plus 3 hours preparation time. All consumables and tools are provided.
Instruction of the workshops: Nina Lükenga