I DON'T GET

Exhibition and sculptural performance by the art duo bankleer in the art space hase29
26.8. – 8.10.2022
The art duo bankleer (Karin Kasböck and Christoph Maria Leitner) is showing a sculptural performance in an installation landscape in Osnabrück. bankleer work with oversized tilting figures that oscillate between form and formlessness. The heads and objects talk to themselves, talk to each other, or interact directly with the visitors - a view of the world through the filter of personal obsessions.
The oversized figures - politicians, revolutionaries and abstract figures of thought - stammer, call out, recite, sing and rumble through their own contradictions in search of room for maneuver. At best, they bring confusion, surprise, new thoughts, and doubts into established routines.
Actors: Stephanie Schadeweg, Lieko Schulze, Jakob Busch
Photo: Angela von Brill and bank empty
The performance
At the very moment when the world is set up, everything fades away. The power of habit has blinded and deafened us to the global space of events that has been piling up behind our backs. So far it has worked well to keep the collateral damage of our own actions at bay. But what do we see when we look beyond the climate crisis, Corona and now war?
The relationship of trust between us and reality has been badly shaken. Fragments of meaning no longer add up to form a stable being, our functioning value structure is falling apart. And we? We are thrown back on our own ego, a crumbling we with dwindling social energies. Is it the learned inability to relate our private, special concerns to the big picture of the world? The consistency with ourselves begins to crack. In this tension we see an opportunity to expose our own helplessness in order to look for other exits.
read more
The muteness and immobility of the sculptures is given up by the physically present actors. An object becomes a speaking body that aggressively addresses the visitor and the architecture. – A reference to the mutual entanglement of humanity and non-humanity. Because when we look at the world, we can no longer ignore how and to what extent we rebuild it and fill it with things. Everywhere are things flowing through and around us that we are intimately connected to in conflictual ways. –
The agents of our multi-part project are fragmented parts and monumentalized bodies. Larger than life heads, those of German Chancellor Angela Merkel, European Central Bank President Mario Draghi and Dutty Bouckman, a pioneer of the Haitian Revolution of 1791, as well as the figures small A, WE Europe and the idiotic. The sculptures move randomly in space, colliding with each other, colliding with the architecture and the audience.
Another object is the tohubassbuuh, a mobile sound system that can reach several locations in the city center and let historical busts and monuments speak loudly using an oversized microphone. The city, its history with its buildings and monuments temporarily becomes part of the performance.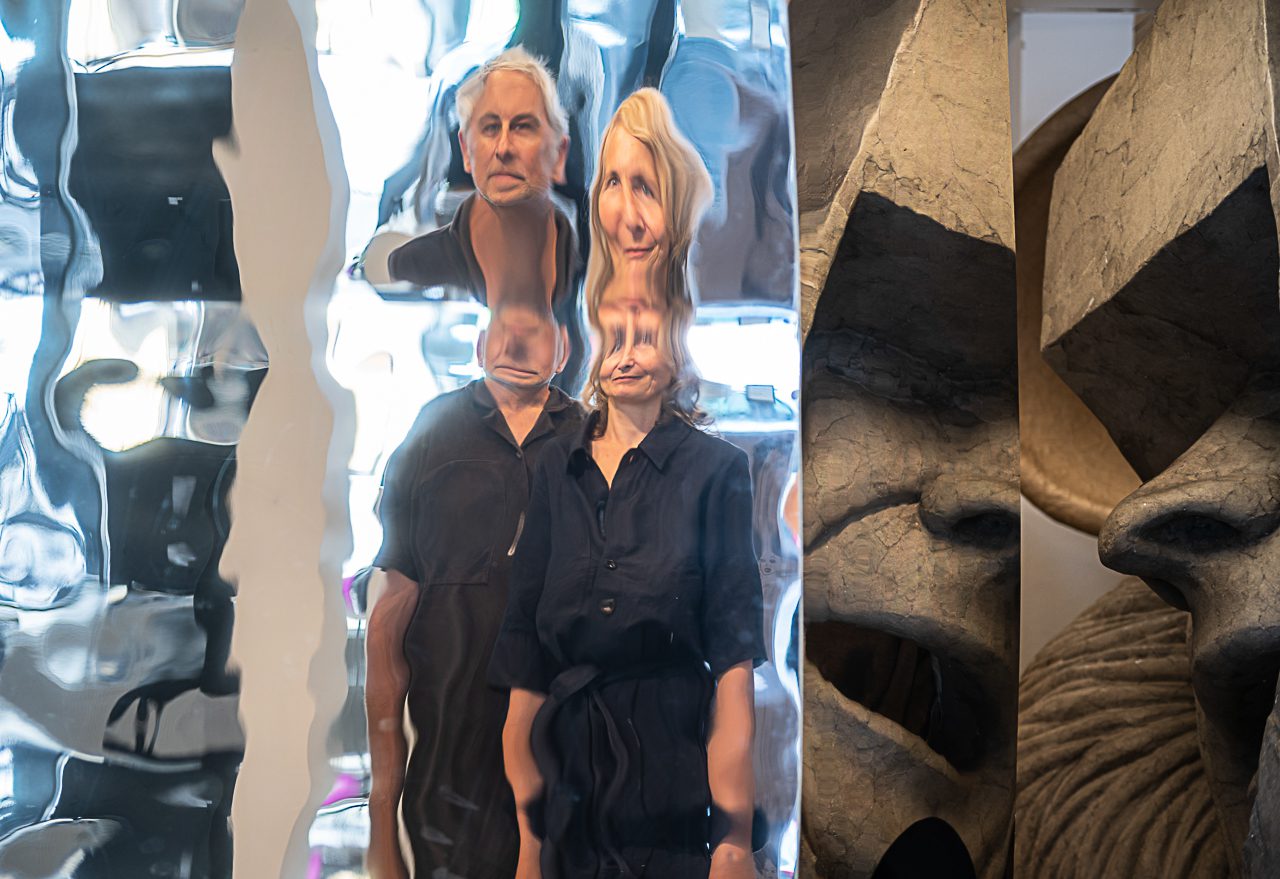 Art duo bankleer (Christoph Maria Leitner and Karin Kasböck)
Photo: Angela von Brill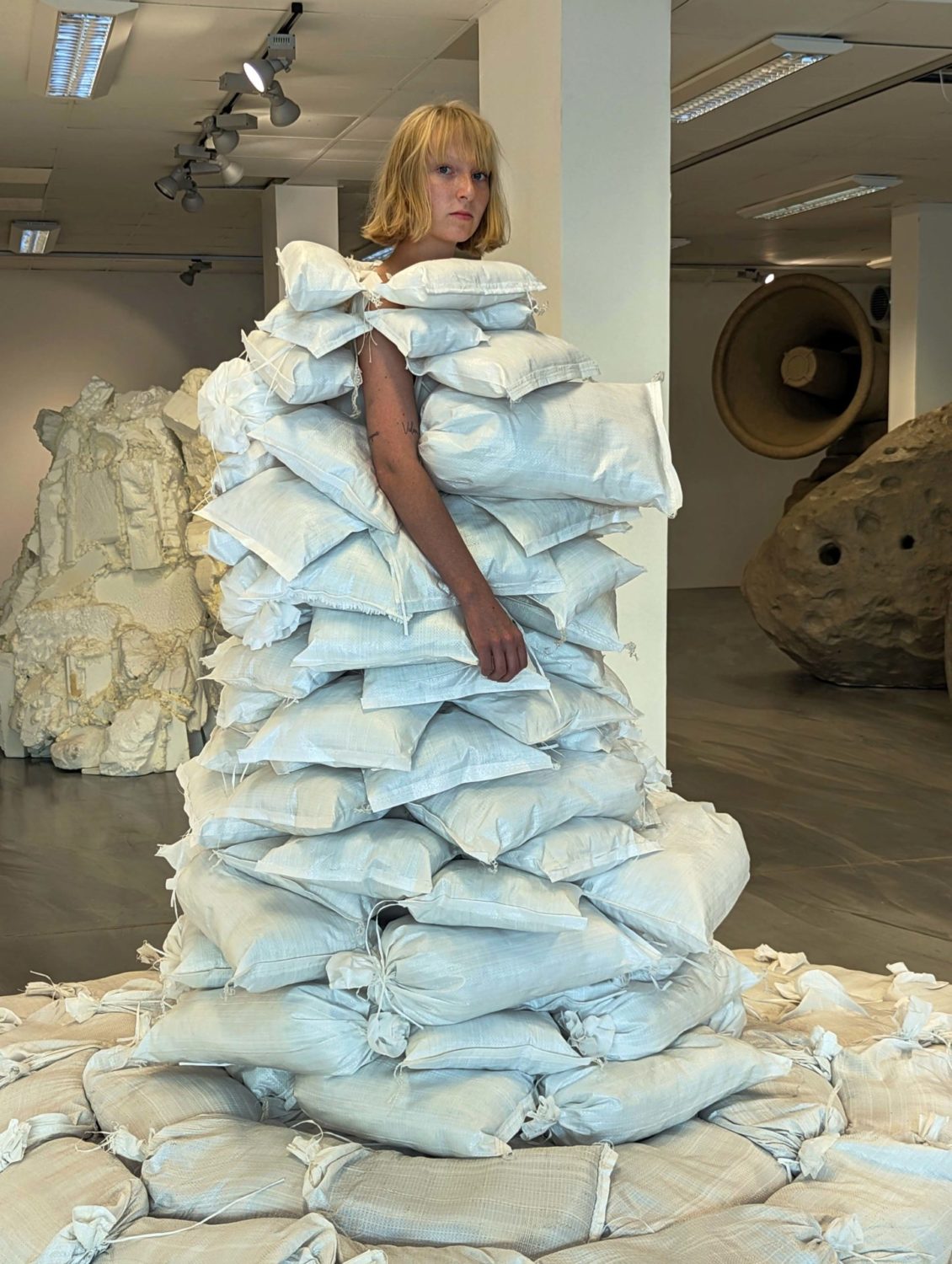 Actress Johanna Mousset, Photo: Bankleer
Performance Dates:
Friday, August 26.8.2022, 19 from XNUMX p.m. (opening)
Sunday, August 28.8.2022, 11.30 at XNUMX:XNUMX a.m. (matinee)
Saturday, September 3.9.2022rd, 18 from XNUMX p.m. (culture night)
Performances:
from 18.45 p.m. Rathausmarkt
20 p.m. and 21 p.m. in the art space hases29
from 21.45 p.m. in the peace hall of the town hall
exhibition tour
with Karin Kasböck and Christoph Maria Leitner; Art duo bankrupt

Saturday, August 27.8.2022, 11 at 30:XNUMX a.m
Saturday, August 8.10.2022, 11 at 30:XNUMX a.m
Workshops
LET'S GET INVOLVED – A practical workshop with Simon Niemann on the exhibition I WILL NOT WAR by bank empty
Fri. September 16 / 17:00 p.m. – 19:30 p.m
Sat. 17 September / 10:00 a.m. – 13:30 p.m
LOOK AT ART – VIEW INTENSIVELY – WRITE CREATIVELY
Writing workshop with Gunhild Seyfert
Sat. 24.09.2022/12/15 / XNUMX – XNUMX p.m
An offer of VHS Osnabrueck
actresses Stephanie Schadeweg and Lieko Schulze,
Photo: Angela von Brill
I DON'T GET
Newspaper with texts and images on the exhibition and performance
A newspaper will be published for the exhibition and performance with the performance texts to read as well as contributions by Dr. Andrea Otte, art historian, and Dr. Jens Peters, head of the West Lower Saxony literature office and former dramaturge at the Osnabrück Theater.
I CAN'T GET the newspaper Download
see and deepen art
Our workshops:
LET'S GET INVOLVED
A practical workshop with Simon Niemann to the exhibition I WILL NOT GET from bank empty
Fri. September 16 / 17:00 p.m. – 19:30 p.m
Sat. 17 September / 10:00 a.m. – 13:30 p.m
Description:
In the workshop we want to pursue the questions of the exhibition in a very practical way and become artistically active ourselves. The focus is on your own actions. Together with others we ask ourselves: How do we approach the work of bank empty? What inspiration does it awaken in us? What moves us? Let's get involved!
The workshop is open to anyone between the ages of 16 and 99 and is free of charge. No previous experience is necessary. All are welcome!
Registration until 12.09.2022/XNUMX/XNUMX at: mail@hase29.de
LOOK AT ART – VIEW INTENSIVELY – WRITE CREATIVELY
Writing workshop for the exhibition I DON'T WAR
under the direction of Gunhild Seyfert
The workshop is aimed at anyone who is interested in modern art, perhaps wants to understand it more deeply and easily. After a guided tour through the respective exhibitions, you will be given a variety of opportunities to pursue your perspective on the works of art and personal associations with impulses for creative writing. More info and Registration.
A workshop of VHS Osnabrueck in cooperation with the Literature Office West Lower Saxony
Samstag, 24.09.2022
Time: 12:00 p.m. - 15:00 p.m
Fee: 34,00 euros/ Reduced:
22,00 Euros